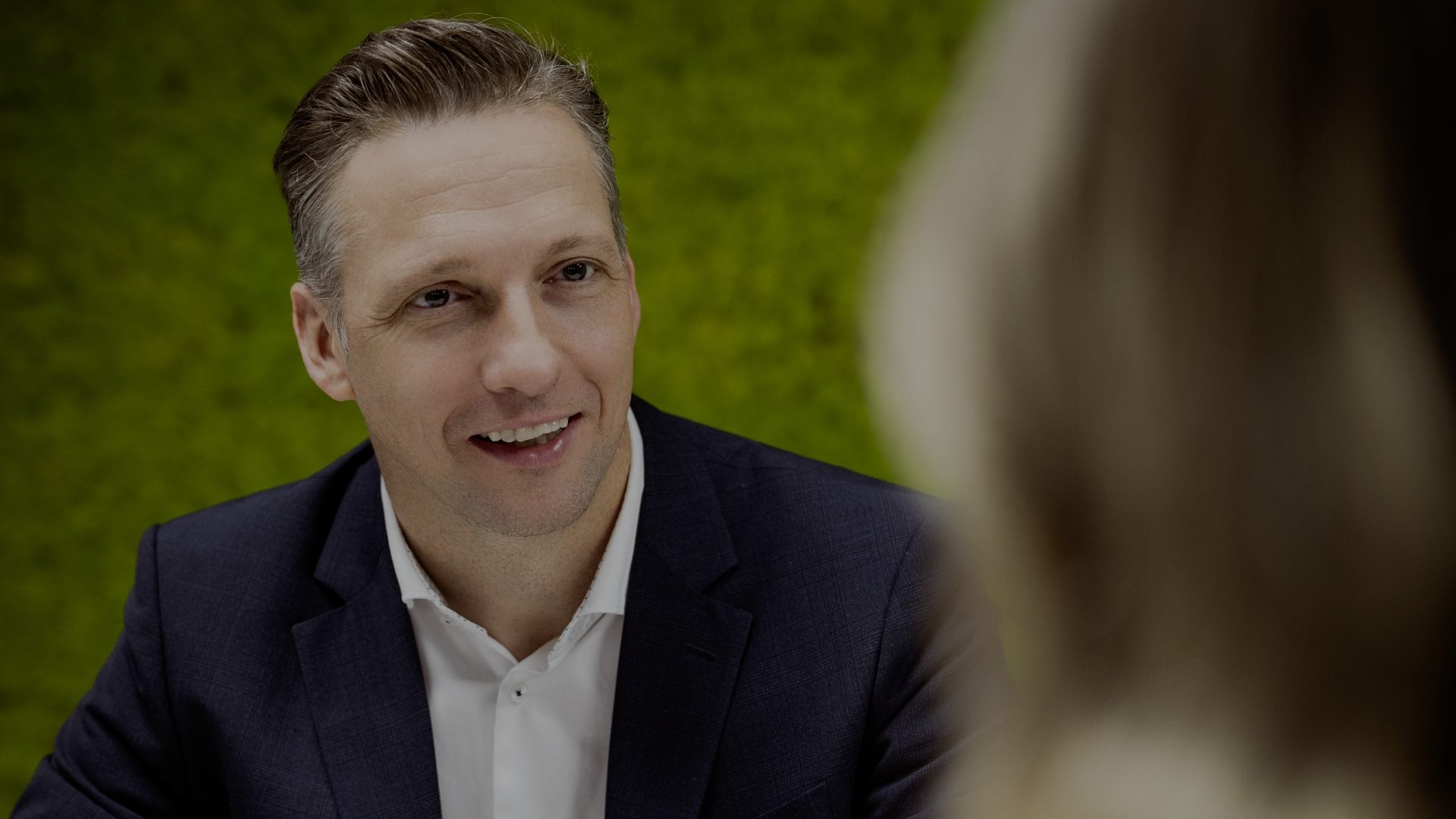 CEO interview
How does DEUTZ design the innovative drive technologies that are paving the way for a carbon-neutral future? Dr. Sebastian C. Schulte tells us how.
As we stand on the threshold of the post-fossil-fuel age, how is DEUTZ positioning itself in this new world?
DEUTZ has been supplying drives that power vehicles and machinery on construction sites, on highways, and in agriculture around the world for almost 160 years. We want our engines to keep the world moving in the future too. To achieve this, we and our customers must embrace change and evolve. The industry sectors that make up our customer base are in the middle of a fundamental shift toward greater carbon neutrality. And our engines are used in sectors that are still generating significant levels of carbon emissions. We see huge potential here, and have set ourselves the goal of making DEUTZ carbon-neutral along the entire process chain by no later than 2050.
Is transforming mobility not a huge task?
Yes, it is. But we also see the transformation of mobility as a huge opportunity to join forces with our customers and bring about change. Some sectors have already reached a consensus on how to achieve net zero. In the automotive sector, for example, electrification appears to be the way forward. For engines like ours that move large loads and are in continuous use, a number of different technologies may be possible – or even a combination of them. But it remains uncertain what a carbon-neutral drive for trucks, excavators, and tractors might look like.
Does that mean we are still some way off from using carbon-neutral drives across the board in construction and agriculture?
Yes it does, and we should be honest enough to say so. We still need the internal combustion engine, at least for a transitional period. That is why we will continue to grow this area over the coming years and carry on optimizing the technology. Looking ahead, synthetic fuels have the potential to signi­ficantly extend the use of internal combustion technology, and this is not an option that should be dismissed out of hand.
How do you intend to proceed?
By relying on our innovative strength and embracing new technologies to pursue a number of approaches. We are well positioned when it comes to making the internal combustion engine carbon-neutral, for example, by using hydrogen as a fuel, and are one of the first companies globally to enter full production. The development of alternative drive technologies, such as electric drives and the fuel cell, also has an important role to play.
Our engines keep the world moving, and we are evolving with them.«
Is hydrogen really the silver bullet for the new era of mobility?
We believe that hydrogen combustion technology will enable a whole host of zero-emission appli­cations, and it has the added advantage that we can draw on existing expertise, technologies, suppliers, and production facilities. All of this is already in place. And if these applications use blue or green hydrogen, they generate very few or even zero carbon emissions.
Has the DEUTZ hydrogen engine already proven itself in the field?
Yes, the TCG 7.8 H2 is already in use in several pilot projects, for example, in collaboration with Rhein­Energie, a local utility company in Cologne. And we also joined the HyCET project in 2022, which is trialing hydrogen engines in an 18-tonne truck. There are still challenges to overcome in terms of sourcing hydrogen and establishing the refueling infrastructure, but we have agreed new strategic alliances in this area too and will continue to expand in the future. Thinking and developing with connected ecosystems in mind will be key, and we will need to expand our portfolio and our value chain if we want to offer our customers the best solutions.
Can you give us an example?
We want to supply the best and cleanest engines, of course, but we also want to keep them up and running. This might be in the shape of battery storage systems for electric drives in smaller construction vehicles, or by providing seamless service and maintenance. To achieve this, we are working closely with our customers and playing an active role in the consolidation of the industry. We are also further expanding our service offering around the world.
DEUTZ AG is a company with a long tradition and the world's oldest engine manufacturer. How can DEUTZ make a success of this transformation?
By not standing still and evolving with our engines. We have to embrace change and move forward; that is the only way we can help our customers to reach their transformation goals. And we will only be able to achieve this if our organization grows as well and we promote a culture that puts innovation and entrepreneurial thinking first. Openness to ideas and other points of view are essential to this, as are transparent and non-hierarchical communication, and an approach that tolerates mistakes and allows everyone to learn from them. Key here are mutual trust and respect for everyone across the business.